In something a bit different, I've decided to look back in time. That's because, while digging through some old files recently, I realised that IBM MQ on Linux is
21 years old today.
SupportPac MA57, as far as I can find, made MQ the first IBM product to have any kind of public support for Linux and was released on 1 Feb 1996. There might have been some research projects or tools before then, and there were certainly other products considering options, (my email archives suggest that several corporate lawyers rapidly got involved, as IBM got to grips with GPL and other open source licenses) but I don't remember anything else officially released at the time.

The MA57 package contained the MQ client libraries based off the MQSeries V2.2 implementation and originally was built on a Slackware 1 distribution. At the time, there was no support for shared libraries (ELF), and so applications had to be statically linked with archive libraries. (That led to some interesting contortions to get channel exits working.) ELF support did come along a few months after, making it much easier for application developers. In what might be seen as a foreshadowing of the client repackaging in MQ V8, this SupportPac was shipped as just a tar file, with a separate script to set file permissions. No rpm was involved.
It took a little longer before we got a full queue manager implementation released as part of MQ V5.2, but starting with the client got a good feel for interest in the platform.
The original announcement, showing how to get the package both from within IBM and outside: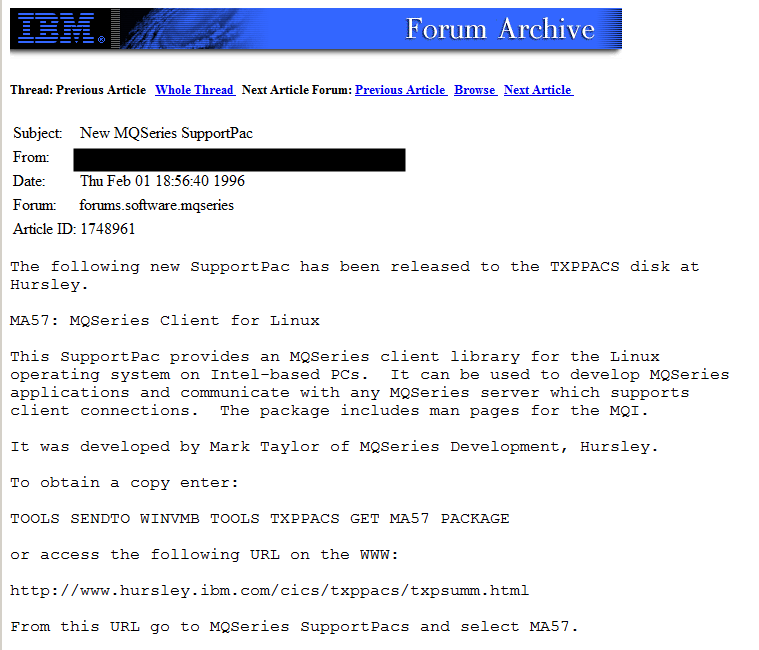 Now, of course, MQ on Linux is used by almost everyone. It's a critically important platform, and we deliver MQ on several different hardware architectures for the operating system.
This post was last updated on November 19th, 2019 at 10:50 pm